Embodied Media
Such media that a human user has his or her avatar body in an environment that the media mediates such as a computer generated information environment or a remote real environment and he or she is able to act using the avatar body as his or her own body in the environment. Virtual Reality and Telexistence are the typical examples of Embodied Media.
Embodied Media Project
Abbreviation of JST (Japan Science and Technology Agency) ACCEL project on "Embodied Media Technology based on Haptic Primary Colors"
http://www.jst.go.jp/kisoken/accel/en/research_project/ongoing/h26_05.html
In the ACCEL Embodied Media project, an integrated haptic sensation transmission module based on the principle of haptic primary colors will be developed. By making it widely available to industrial and general users, the early creation of products and services based on the recording, transmission, and reproduction of physical experiences with haptic sensations will be promoted. In order to foster innovations with social and economic impacts, two platform systems are planned to be constructed: one is an embodied content platform with consideration of practical applications in the fields of broadcasting and entertainment, and the other is an embodied telexistence platform, which enables the emergence of new industries, such as a telework industry using avatar robots.
Research Director: Susumu Tachi, Program Manager: Junji Nomura, Assistant Program Manager: Kouta Minamizawa
Research summary has been published as a booklet.
- Click here for the website.
- Download PDF from here. [PDF:38.5MB]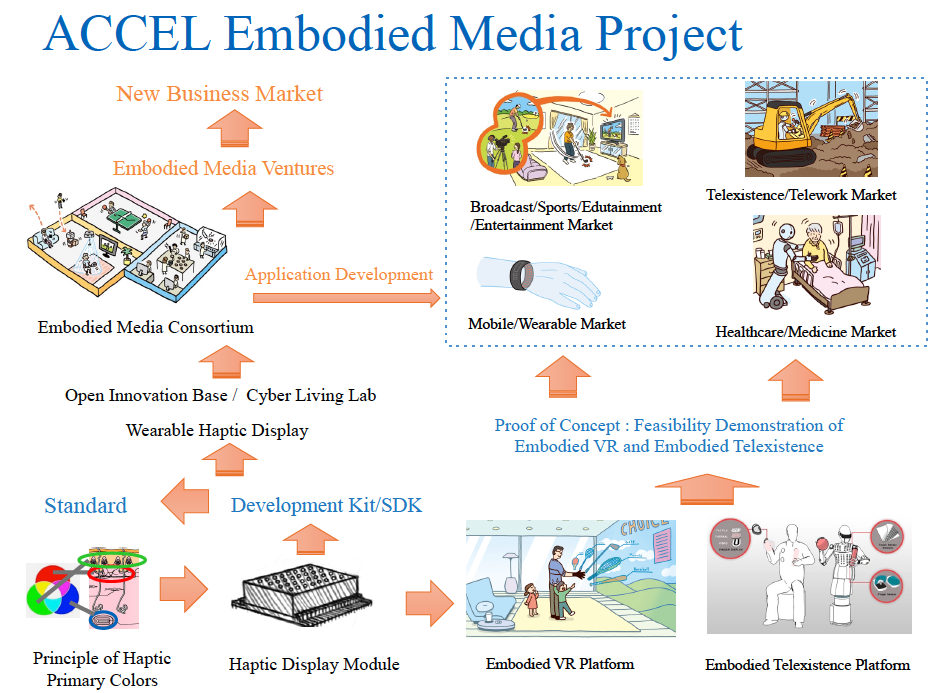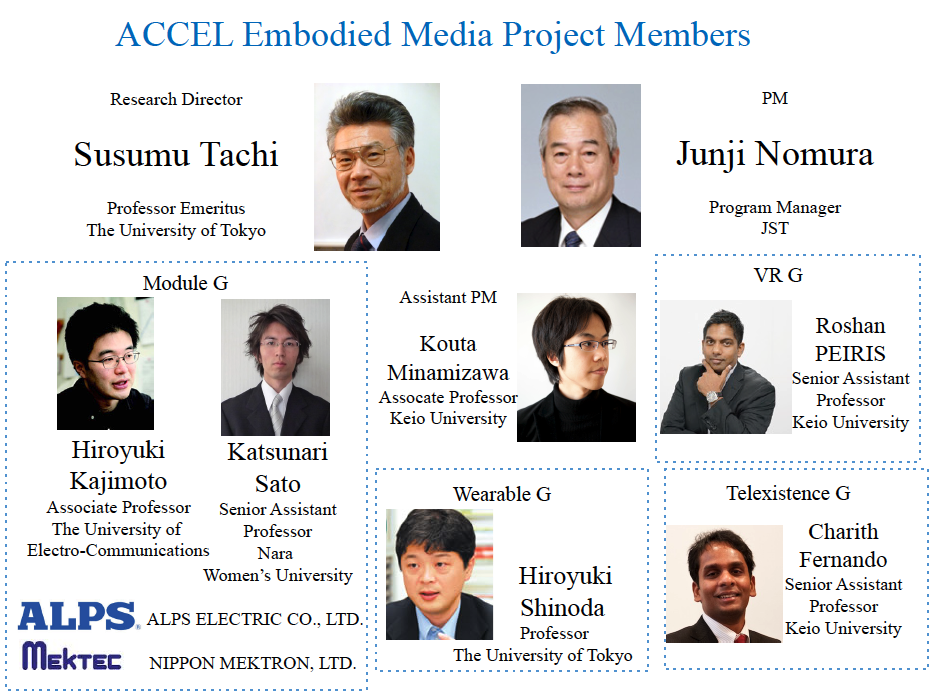 Project Results Overview
Step1: Development of an Integrated Haptic Sensation Transmission Module
Based on the research director's proposed principle of the haptic primary colors, we are developing sensors and actuators corresponding to each of the elements "vibration," "force" and "temperature." Integrating a stimuli reproduction algorithm corresponding to various haptic sensations, we constructed a mono, di and tri-haptic integrated haptic sensation transmission module.
tri-haptic sensing module
mono, di and tri-haptic display module
Haptic® Trigger Plus
integrated with di-haptic display module
Step 2: Development of a Wearable Haptic Interface
We have developed glove-type and whole bodysuit-type haptic sensory interfaces equipped with the integrated haptic sensation transmission module as products where one can definitively experience the value of haptic transmission based on the principle of haptic primary colors featured in the di-haptic display module. We are also implementing two-dimensional communication wear allowing flexible haptic sensory transmission across a large area.
| | | |
| --- | --- | --- |
| | | |
| tri-haptic sensing/display gloves | two-dimensional communication wear | Synesthesia Suit |
Step 3: Community Creation and Industry-Academic Co-Creation
With the aim of creating industries based on embodied media technology, we established an industry-academia co-creation consortium, with approximately 50 companies participating as of 2018. We are promoting the HAPTIC DESIGN PROJECT with the aim of human resource development, offering an SKD and toolkit, hackathon events for the user community and through new fields of design in embodied media.
| | | |
| --- | --- | --- |
| | | |
| telexistence toolkit | HAPTIC DESIGN workshop | HAPTIC DESIGN AWARD 2017 winning works |
Step 4: Construction of Demonstration Platforms and Social Development
Constructing an embodied content platform as a proof of concept, we are carrying out social development in VR entertainment, sports broadcasting and so on. Furthermore, grounded in the technological achievements of the embodied telexistence platform, we are opening up a new field of business by establishing Telexistence Inc. as a spin-off venture.
| | |
| --- | --- |
| | |
| POC-1: Embodied Content Platform | POC-2: Embodied Telexistence Platform |
Rez infinite Synesthesia Suit
(co-creation with Enhance Inc. and Rhizomatiks Co.)
next generation haptic life viewing
(co-creation with Fujitsu Ltd. and Yamaha Co.)
A bedridden grandmother attended her grandson's
wedding party by using telexistence.
(co-creation with Ducklings Inc. and FOVE Inc.)
Embodied Telexistence Platform
TELESAR V
Telexistence Inc. unveiled its first
mass production prototype for Model H.
Embodied Telexistence Platform
TELESAR VI